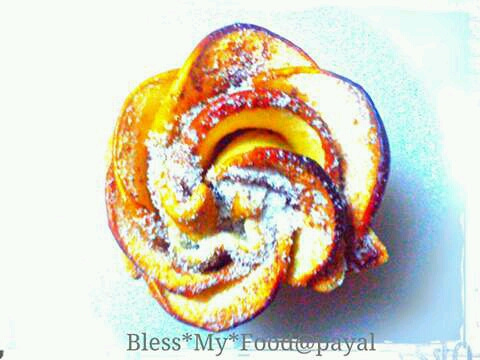 05 Feb

Apple Roses | baked apple roses recipe

Apple Roses | baked apple roses recipe with step wise pictorial method.

Month of February is running and we are just a couple of days away from Valentine's Day. But  prior to Valentine Day on 14th, Rose Day is falling on 7th of February.
Red roses are blooming across the city in all the Art Galleries but they cant pull in a person,who is a foodie in the real sense of the term. 🙂
So for them, here are the Roses made with Red Vibrant Apples. Truly a romantic touch they carry.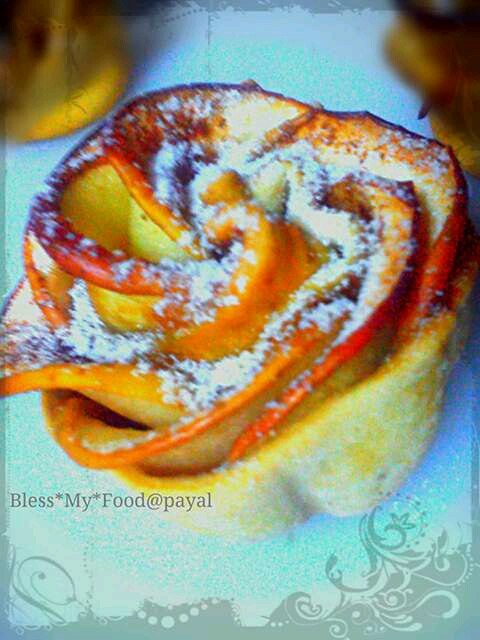 INGREDIENTS
All purpose flour* – 2 Cups
Red Apples – 2
Juice of half lemon
Apple Jam* – 3 tbsp
Icing or powdered sugar as per need
Cinnamon (powdered) – 1 tbsp
Water as per need
YIELDS
6 Roses
METHOD
1. Take a bowl and sift the flour in it.2. Now add water to knead a stiff dough.
3. Once it is done, keep aside for about 30 minutes after covering it with muslin cloth.
4. Take another bowl and add some water with lemon juice in it. Keep aside.
5. Slice the unpeeled apples in a way as shown in the picture.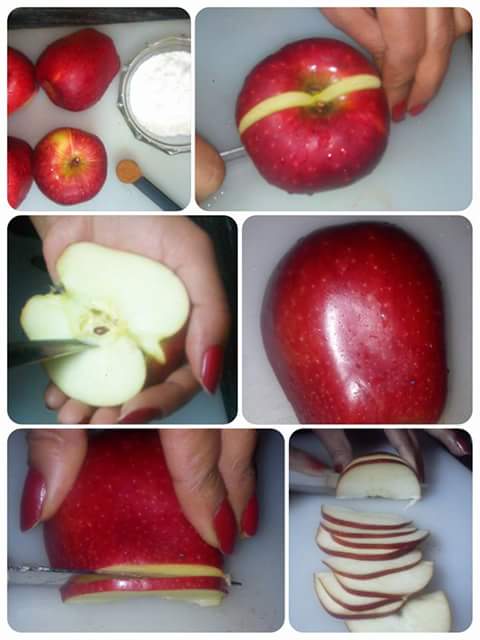 6. Immediately transfer these apple slices in the bowl carrying lime water so that they won't change color. Keep aside.
7. Take the dough and roll it with the help of a rolling pin & cut into strips (about 2 x 8 inches) with pizza cutter/knife. Keep aside.
8. Take one more bowl, fill with water, place it on gas stove at low temperature & transfer the apple slices in it.
9. Let the apple slices be cooked just enough to bend without breaking. If they break, cook them a little more.
10. Drain the apples and keep aside.
11. In a bowl, add apple jam with two tablespoons of water. Warm it up so that the jam will be easier to spread.
12. Spread a thin layer of jam water mix on each strip of dough.
13. Arrange the apple slices on the strip of dough, overlapping one another, as shown in the picture. Make sure the top side of the slices sticks a little out of the strip.
14. Sprinkle cinnamon over the apple slices.
15. Fold up the bottom part of the dough.
16. Starting from one end, carefully roll the dough, keeping the apple slices in place. Seal the edge at the end.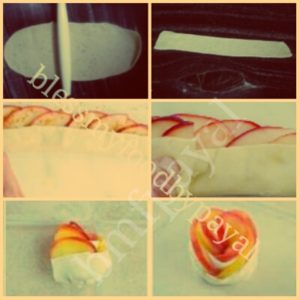 17. Place each flower in the muffin liner, after greasing it.
18. Bake at 190 º C in a preheated oven for about 40-45 minutes.***
19. Remove from the oven, dust icing sugar and enjoy.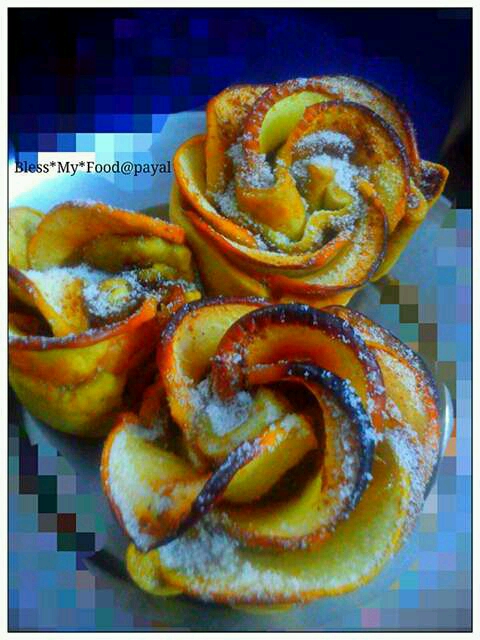 NOTE
* If puff pastry (thawed), is available to you, then skip the all purpose flour & the process associated with it. Use 1 sheet of puff pastry.
** You can use any jam of your choice if apple jam is not available.
*** If after some time the apples start to burn on top, move the pan in to a lower rack of the oven and finish baking. In order to avoid burning the top of apples roses, you can also cover them loosely with aluminum foil during the last minutes.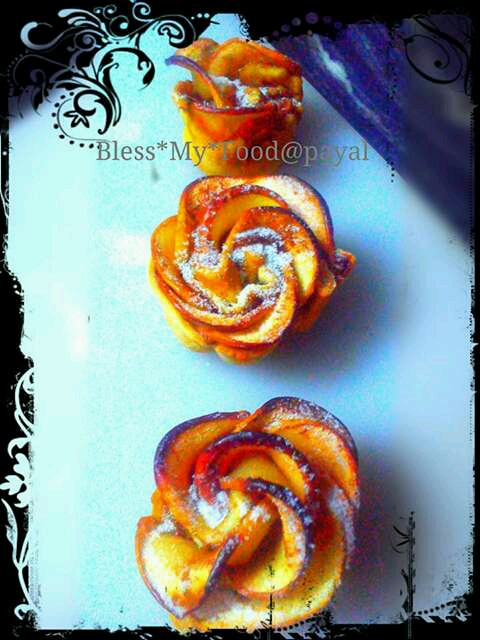 You can also try the beautiful recipe of APPLE ROSES BASKET.
Regards
PAYAL BALI SHARMA
SHAILENDER SHARMA