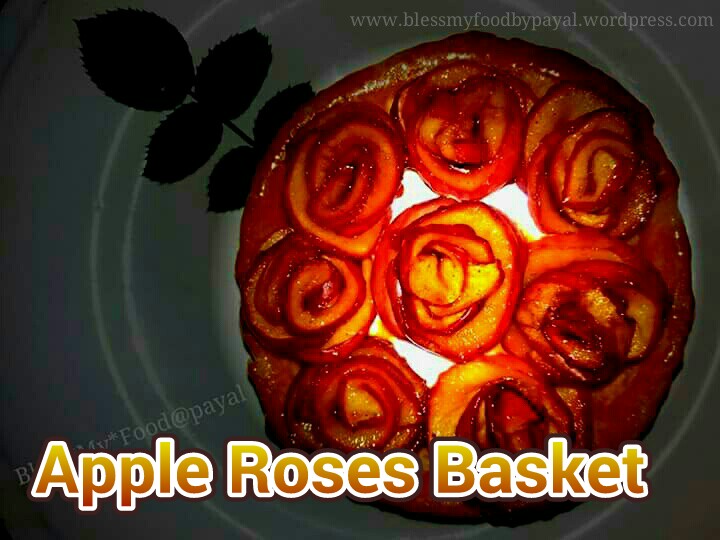 28 Feb

Apple Roses Basket

Apple rose basket recipe with stepwise pictorial method is given here.

Months ago, one fine day when i was browsing on internet, I suddenly bucked.

You know why?

I saw the picture of a very beautiful rose. It was beautiful more than the original. And I was surprised to see that, that rose was made up of apples. Since then it was in my wishlist.

But the bad part of the post was that it wasn't associated with the detailed recipe.

Very recently i decided to make that apple rose but with a difference.
I thought that why i shouldn't try something broder, something more amazing!!

But alas! No strict recipe anywhere. Then collected multiple mini tips from one blog to another to YouTube to blah blah blah and finally came out with this basket.

Although the total time i have mentioned in making these baskets is 2 hours, but actually it took me about 5 hours from start to end because i needed much time to connect the ideas as it was my first attempt. Second time, I need less than even 2 hours.

The other recipe of apple rose in the blog:

So let's enjoy the beauty of apples in the form of roses….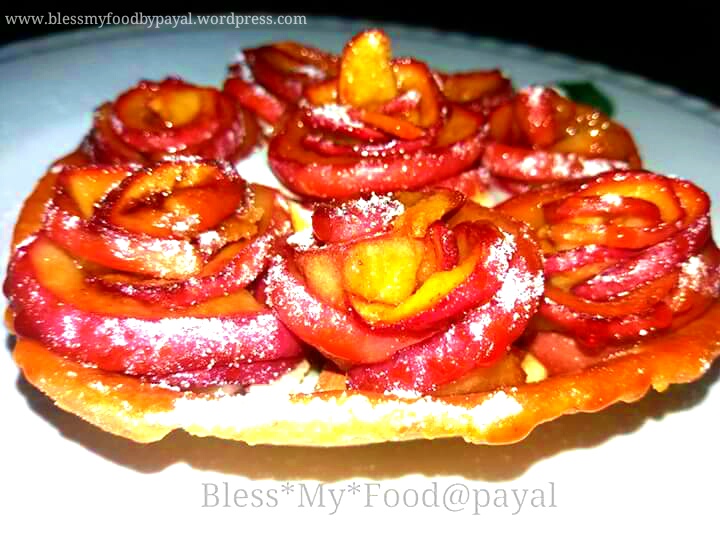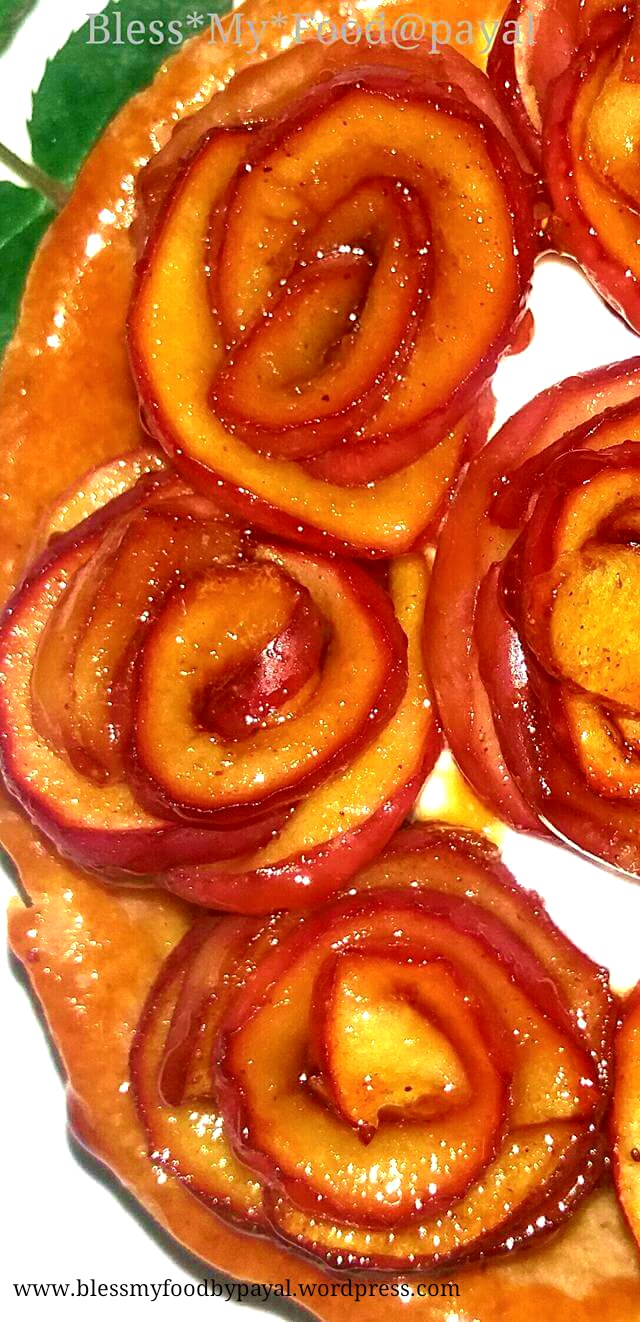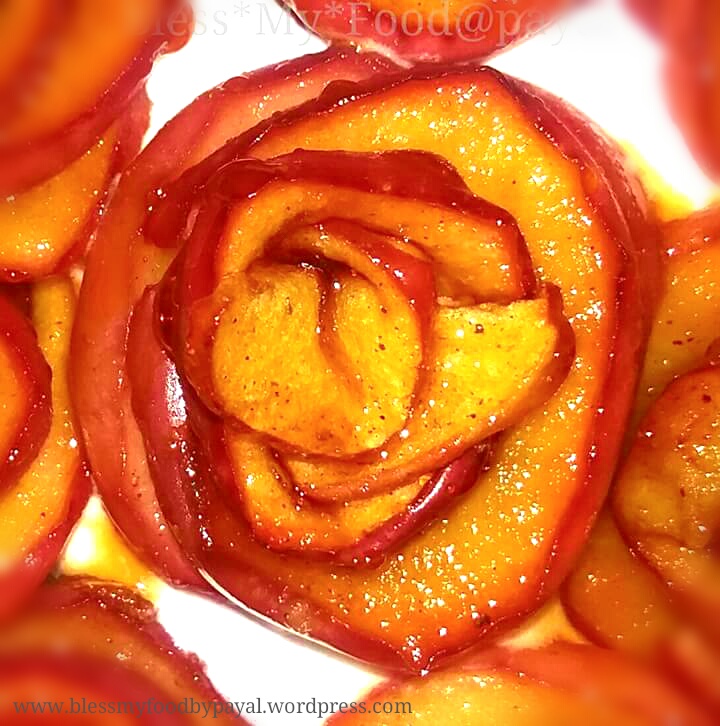 INGREDIENTS for making apple rose basket
(for 2 baskets)
For The Basket:
Whole wheat flour  1/2 cup.
All purpose flour 1/4 cup.
Oil 1/8 cup.
Water as required at room temperature.
Salt 1/4 tsp.
For Whipping Cream:
Chilled fresh cream or chilled heavy whipping cream 100 ml.
Icing sugar 4 tbsp.
For Apple Roses:
 Apples (Red) 4 nos.
 Powdered sugar 4 tbps.
 Powdered cinnamon 1/2 tsb.
For Caramel Glaze:
 Powdered sugar 1/2 cup.
 Water 1/4 cup.
For Assembling Basket :
Baked baskets (as already made).
Whipping cream (as already prepared).
Chopped nuts (I am using walnut, almonds and cashew).
Apple Roses (as already kept ready).
Caramel glaze (as already made).
For Garnishing :
TOTAL TIME NEEDED:
2 Hours
METHOD
For Making Basket.
Sieve or mix whole wheat flour, all purpose flour and salt i.e all the dry ingredients together – .
Add oil and mix the oil in the flour evenly with the fingers to get a breadcrumb consistency. Bind the whole mixture together by adding water. Don't knead. Gather everything and form a dough. Don't over do.
Preheat your oven.
Grease your pie pan with oil. As I don't have a perfect pie pan, I am using small katoris which are somewhat look like a pie pan. Please excuse me for that.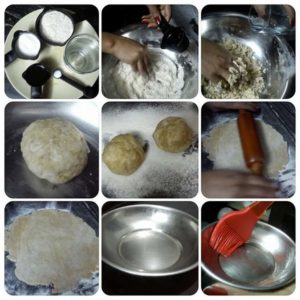 Divide the dough into two equal parts depending on the size of your pie pans.
Roll the divided parts of the dough on a clean shelf after dusting all purpose floor or whole wheat floor.
On a greased pan, place one of the rolled pie crust gently and press it towards the bottom and the edges.
Fill with some weight. I am using Rajmash for the weight. You can also use dry beans or rice as weights. Bake with weight for 20 minutes. Remove from oven and carefully remove Rajmash. Poke small holes in the bottom of the pie crust with a fork and return to oven (without the weight) and cook for more 10 minutes, until the basket turns golden. Cool completely before filling.
For making Whipping Cream
In a big bowl, add some ice cubes and place the second bowl into first bowl. Add cream and icing sugar into the bowl and beat the cream with an electric beater. I have used amul cream as only this was available in my fridge because this recipe was made during late hours when all the shops were closed and i couldn't leave the recipe in half for tomorrow. However, the icing sugar was not available in any shop in my city, so i had to prepare the icing sugar at home. Just take 4 tbps sugar and 1/2 tbs corn flour and grind them. If you can get heavy whipping cream, that's the best. But the cream should be chilled.
At the highest speed, run the electric blender and whip till the cream become stiff. Don't overdo. when you get stiff peaks, just stop. To check, just invert the bowl and if the cream does not fall, the cream is ready. Place it in the fridge.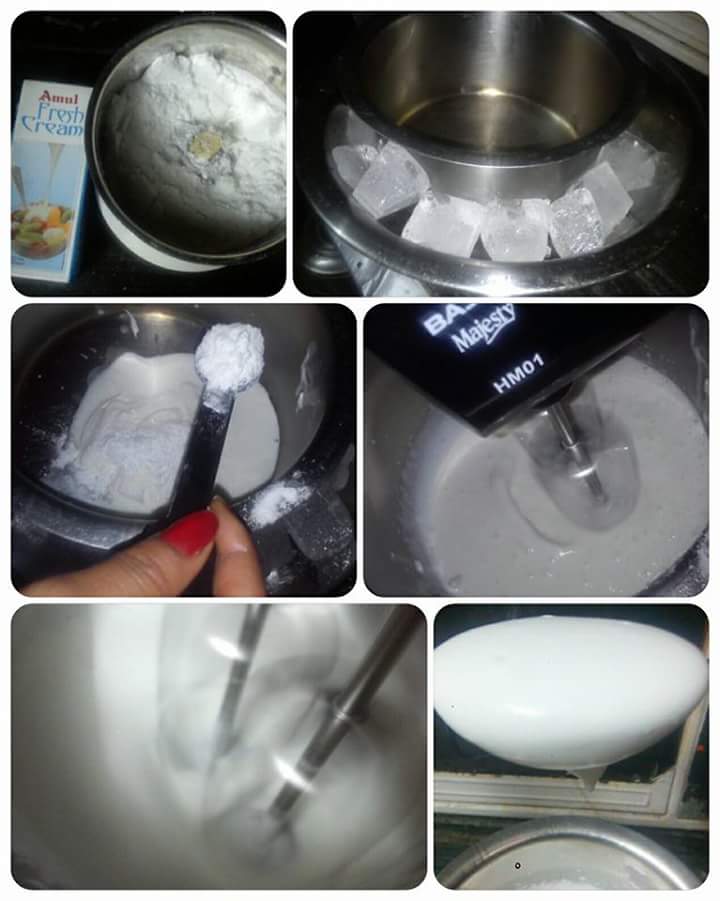 For Apple Roses
In a bowl, mix powdered sugar and powdered cinnamon. Finely slice unpeeled apples thinly.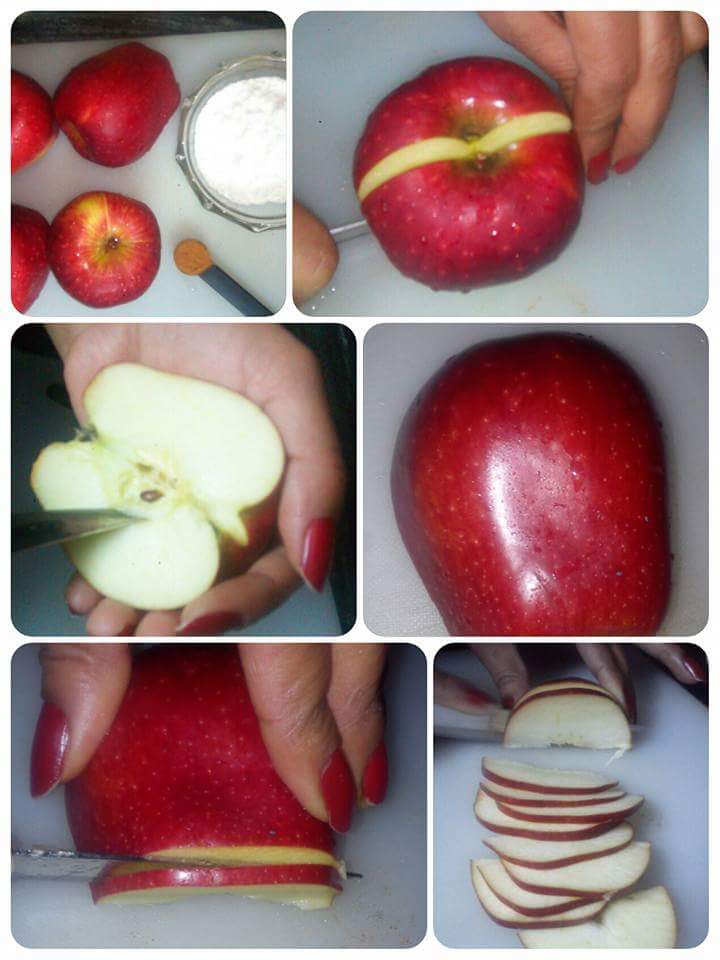 On a non-stick pan, spread sugar-cinnamon mixture (use 1 tbs for one apple). When the sugar starts to melt, arrange apple slices and over medium flame, cook for 1 minute from one side only.
When the apple slices become limp, transfer them into a plate. The caramelized side should face upwards, otherwise the apple slices will stick to the plate. And let them cool completely. Repeat with the remaining apple slices.
For making apple roses, start with a small slice. Roll the slices until the rose reaches the requisite size. With 4 medium sized apples, I could make about 20 roses.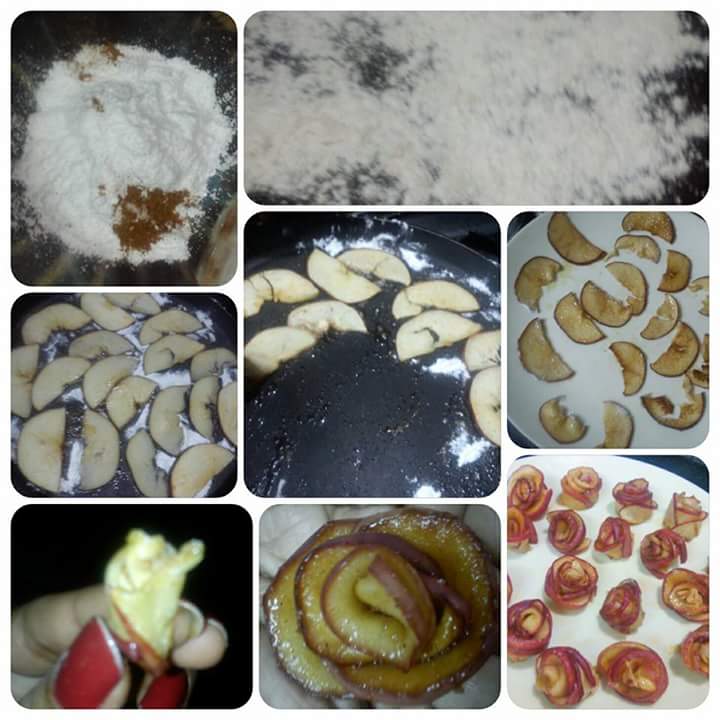 Time to assemble Rose Basket
Take a piece of bread and cut it round and place it at the base of the basket. (But this is purely optional because tomorrow I am sending this basket to my son in his tiffin and to save it from getting soggy, i am opting it). Now spread the chopped nuts in the basket. Then arrange the apple roses over the nuts across the basket. But reserve one rose for later use. Leave the center space empty. Now warm the basket in the preheated oven @ 180° C for 3 to 5 minutes. Be vigilant that the roses may not be over baked. Timely bring them out of the oven otherwise roses will loose their appearance and texture. The care needed at this stage is very very high.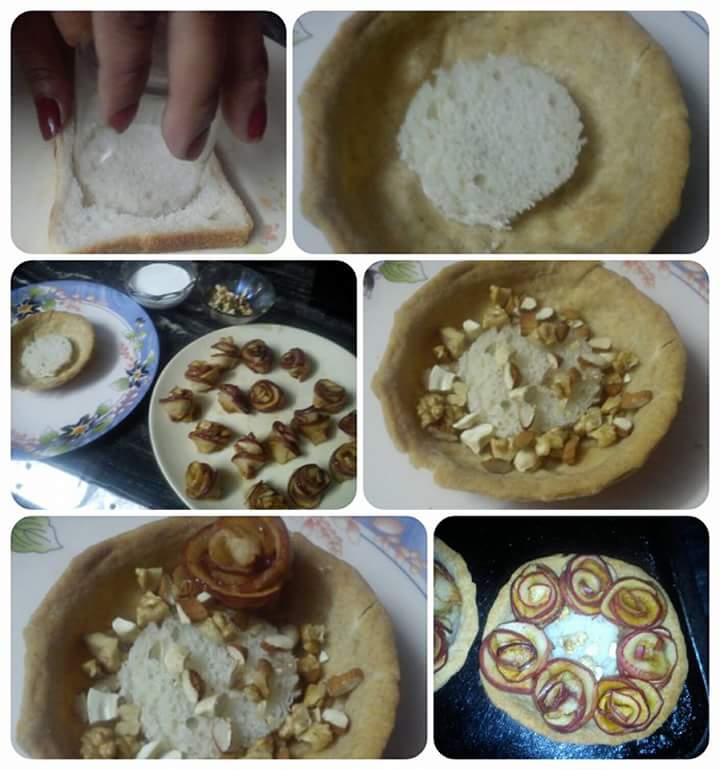 In the mean time, prepare the caramel glaze. Add powdered sugar in a pan. Melt sugar without water and cook until the sugar starts to turn into light brown on a low flame. Add water and cook for 1 minute and stir constantly. But be careful while adding water to the hot sugar liquid. Now bring the basket out of the oven and brush the apple roses with caramel glaze. When the basket cools down, pour in the Whipping cream and cover the center with one reserved rose. Also brush the center rose with a glaze. Garnish the roses with the icing sugar.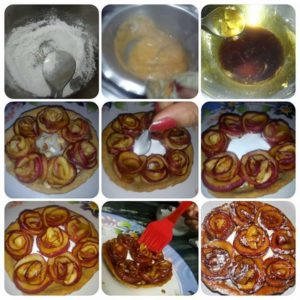 Apple Roses basket is ready. Place it in the fridge and serve chilled either with more whipping cream or ice cream or as it is.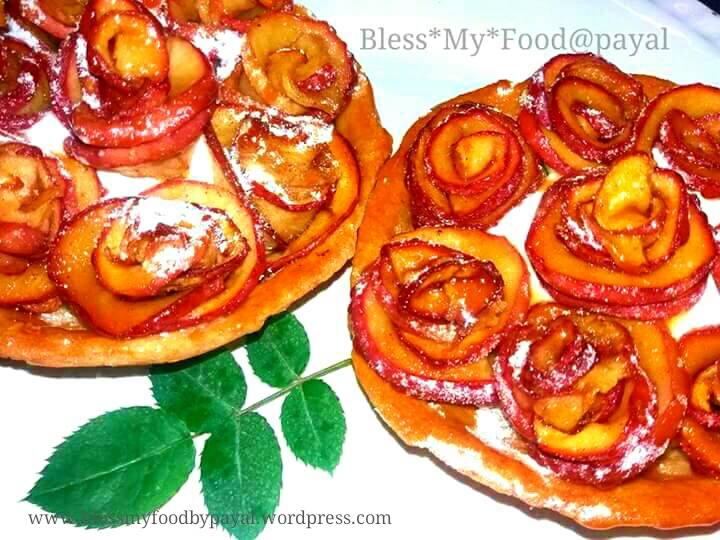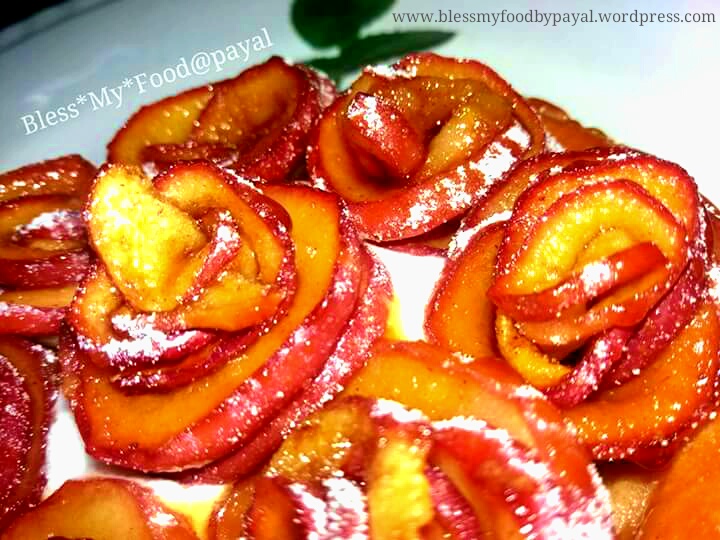 Regards
PAYAL BALI SHARMA